Religious Education - St. Louis Parish
2017-18 Religious Education Update
Greetings Religious Education Families,
In an effort to make sure we are not missing any child/children who wishes to join our St. Louis Religious Education Program, an executive decision was made to delay our class start date. We want the change in mass time to have time to grow on families as well as allow families the opportunity to find a program that best fits their needs. St. Louis is not the only parish going through changes in the area. We are busy reaching out to new families and supporting returning families through the change. With all of this said, we want to make sure that we adhere to the schedule that was originally sent out and not burden families with class dates not previously broadcasted; therefore, the St. Louis Religious Education program (Pre-school through Confirmation) will begin on SUNDAY SEPTEMBER 17th.

Preschool will meet during the 8 am mass and Kindergarten thru 11th/Confirmation will meet from 9:15 am to 10:45 am.

It is a requirement of the archdiocese for children to have a minimum of 25 hours of religious education each year. Therefore, with the later start date and much to learn we ask that you make every effort to be present at class this year. Please reach out to Colleen Rooney regarding any extenuating circumstance, and we will work out on individual plan to support you. Thank you to those who attended the parent meeting on August 27th and who have reached out with ways to make our program work. We appreciate your input.

Fr. Yamid Blanco - blancoy@archmil.org
Colleen Rooney - cocorooney86@gmail.com
2016-17 Religious Education Registration
St. Louis Parish Religious Education registration is underway! If you need the registration form, you can download the current 2017-18 form here. Please contact Colleen or the parish office if you have any additional questions about registration. Thanks!

Finding out more information
If you have any questions, comments or concerns please contact Colleen Rooney, Director of Youth Faith Formation.
Contact Information:
Colleen Rooney
6th through Confirmation
414-708-0055
cocorooney86@gmail.com
Mission Trip 2013 - Cincinnati, OH July 22nd-27th
38 total participants, including 33 youth ages 7th-12th grade from 10 Racine-area parishes.

St. Louis participants:
Madison Horstman - 7th grade
Michaela Moore - 7th grade
Alex Malec - 9th grade
Alex Goodrich - 10th grade
Joe Flores - 10th grade
Kelli Michel - 11th grade
Ashley Gelhaus - 12th grade

Thank you for your commitment to social justice. You rock!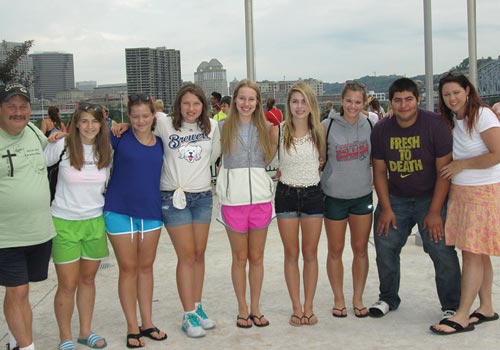 Click the photo above to see the full photo gallery.
Service Project: Hunger Task Force Food Sort
I am in need of 25 volunteers!
Hunger Task Force Food Sort Service Project
201 S. Hawley Court, Milwaukee, WI 53214
Saturday September 20th at 9am to 12noon.
This counts as service for the poor/hungry. Please bring two canned goods to donate (peanut butter and other protein always good choices!), water bottle, light snack, and wear closed toe shoes. You will be on your feet for 3 hours. We will meet at Hunger Task Force at 9am sharp. If you need a ride from St. Louis, please contact Colleen. Otherwise, arrange a carpool/transport self. Feel free to invite friends and participate in this service project as a family.
RSVP to Colleen if you plan on volunteering so I know who I am looking for. :)
Colleen - 414-708-0055
Service Project: Festival Youth Volunteers Needed!!!
If you wish to sign up to work this year's parish festival the weekend of August 16th/17th, please read attachment carefully and RSVP by August 8th to Terry Rohde (youth volunteer coordinator) your desired shift and time by turning in attached volunteer RSVP. His contact information is provided in the attachment. This will count for service to one's church community. You must attend a mandatory volunteer training on Friday August 15th at 6PM in order to volunteer. ***If you wish to receive Confirmation service hours for this and are in the 9th or 10th grade you must RSVP through Terry***
Parish Festival youth volunteer flyer
Any questions, please ask. Thanks.
Colleen - 414-708-0055
Service Project: Respite Care Days - Sat. Oct. 18th
Respite Care Days at Whitnall High School (5000 S 116th St, Greenfield, WI 53228 ).
Saturday Oct. 18th, 8:15am-2pm
Service to the vulnerable. Volunteers are paired up with a special needs child or a sibling of a special needs child to offer some one on one TLC. The Volunteer Respite Program gives the parents or caregivers of special needs children a much-needed break on a regular basis.
All volunteers sign up through the online registration found at www.chw.org/volunteerrespite. Volunteers must be at least 15 years of age. Because of the sensitive nature of working with children, volunteers must submit a confidentiality form and a background agreement form (also found online) at least TWO WEEKS prior to the volunteer date.
Colleen - 414-708-0055
Please let me know if you are interested in volunteering so I know who to look for.
St. Louis Feeding the Hungry Service Projects
In March, Religious Ed. students worked food sorts at both the Hunger Task Force Stock Box sort and Racine County Food Bank.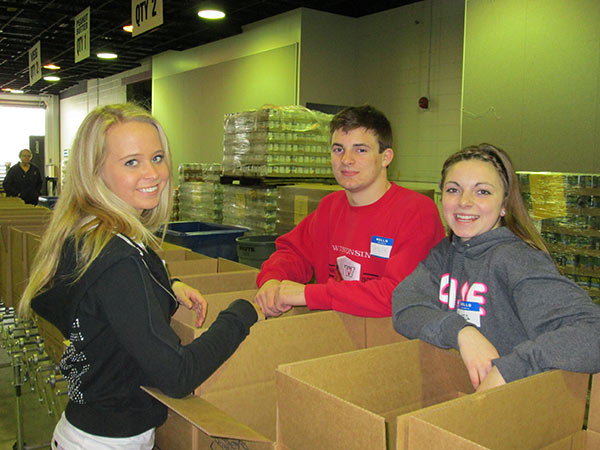 Click the photo above to see more images.
Saint Louis Religious Education Program overview
Saint Louis Parish offers Religious Education classes for students in Preschool through Confirmation class. Classes are offered on Sunday mornings from 10:40am until 12:10pm for students in Kindergarten through Confirmation and preschool meets from 9:30am until 10:30am. Middle school and High school students have the opportunity to serve the community through service projects as well as participate in a local and abroad summer mission project.
Sacraments
Saint Louis Parish offers First Reconciliation and First Eucharist starting in the Second Grade. First Reconciliation preparations begin in September and ends in December. The Sacrament of First Reconciliation takes place the second week of December. First Eucharist preparations begin in January and go until First Eucharist in May.
Confirmation is offered beginning in 11th grade at Saint Louis Parish. Confirmation preparations begin in the 9th grade with documentation of service hours and continue through the 11th grade with participation in liturgical experiences. In order to continue in the Confirmation preparation in the 11th grade, the student must have attended at least 2 retreats and 2 district events.
A student requesting any sacrament must be enrolled for a full faith formation year prior to the year he or she is requesting the sacrament in order to complete necessary archdiocesan Religious Education curriculum. The student must also have a good attendance record. In other words, no student can join the religious education program during a sacramental year for the first time or request a sacrament after a lengthy period of absence from the program.